In every culture in the world, flowers play a role in funeral customs, bringing their beauty and fragrance as a comfort during difficult moments. Flowers symbolize hope and remind us of the spirit of life. In ancient times, fresh flowers and herbs were used to anoint the bodies of the deceased, while aromatic flowers and plants were used to decorate the burial site. Today, flowers remain one of the most beautiful and gentle ways to express condolences. During times of sorrow, sympathy flowers are messengers of respect for the deceased, and hope for loved ones who grieve their loss.
Bunches' Sympathy Collection provides many appropriate choices for this occasion.
Some general questions
Q: I just found out… Is it too late to send funeral flowers?
A: No matter when you heard the news, sending flowers is always appropriate. Flowers can be sent to either the funeral service, or as a gift to the home of the surviving family members.
Q: What if the funeral is out-of-town?
A: There are many types of services, from traditional funerals, to memorials, to graveside tributes. It is appropriate to honour any of these with flowers. Bunches will transfer the order to a nearby florist who will fill the order according to local customs. They will choose the style and flower varieties that are suitable and available, and make it up to the monetary value provided.
Q: The obituary says 'In lieu of flowers,' but I would still like to send flowers – is this appropriate?
A: Yes, flowers are also appropriate in these situations. Many people choose to send a representative floral piece to the service or family home as well as a donation to the charity indicated.
Q: What if I am not sure of the location of the service?
A: If you have the full name of the deceased, Bunches can research to find to the time and location of the service. Also knowing the name of the funeral home is a big help.
Q: What should I say on the card?
A: Most enclosure cards are pre-printed with a message heading such as "With Deepest Sympathy" or "In Loving Memory". Simply signing your name to these cards is sufficient. Be sure to use your first and last name to avoid confusion for the family. If there is a group of names, spell out each one to ensure the correct information is communicated to the family.  For more card message suggestions, click here.
Q: We collected money from a group of people at the office. How do we sign the card?
A: The name of the business or group is appropriate for the card, or the individual name of each contributor. Try to keep the name list as concise as possible. You might want to purchase a larger card that will accommodate many names, which can then be attached to the floral piece.
Q: Are there any flowers that are not appropriate for sympathy or the funeral?
A: Every flower, when tastefully arranged, is appropriate for expressing sympathy. However, designs for services in a church or funeral chapel are usually made from bigger flowers in larger volumes to create a tribute more in proportion with the larger space. Small-scale flowers in mid- to small-size designs are used for sending to the home. Floral arrangements featuring balloons or festive ribbons, plush toys, and so forth are not generally recommended. The experienced staff at Bunches is always available for more guidance in this area.
Flowers for the Service
Flowers sent to the service are living tributes to the deceased. If you have missed the service, flowers can also be sent to the family home. A floral bouquet in a vase, basket, or other upright container is the most popular for any type of funeral or memorial. However, other shapes, such a cross, wreath, or standing spray can create visual interest amongst the other floral displays.
Q: Is it appropriate to send a more colourful piece to the funeral service?
A: A funeral service is as much about gaining closure following a death as it is about celebrating the delight and energy the deceased brought to life. For that reason, selecting vibrant, colorful and bright flowers are just as appropriate and can add a joyful note of remembrance to an otherwise somber occasion.
Q: I would like my flowers to be enjoyed at the viewing and the church service as well as at the memorial.
A: For multiple day services, it is best to send flowers that will be designed in a container with water or floral foam. This will keep the flowers fresh for the longest possible time. Design styles include vase arrangements, baskets and container designs. Plants are also an excellent choice as they may be enjoyed in the home long after the services are over.
Flowers for the Home
Flowers sent to the family are sympathy expressions of comfort, peace and hope. They say "I'm thinking of you." Any number of floral arrangements are a welcome gesture, including centerpieces, plants or even a small teacup with flowers. Some choose a small garden of green plants, accented with a blooming plant for color. And even if a few weeks have passed since the death, flowers are a comforting reminder that friends are still thinking of the family throughout the grieving process.
Q: Which gifts are appropriate but are longer lasting than fresh flowers?
A: While many of us think of flowers to express sympathy, plants are a perfectly lovely – and lasting – way to show you're thinking of them. A mixed planter basket containing a blend of blooming and green foliage plants provides a lush, yet colourful display. A beautiful way to express your condolence and compassion, plants can be enjoyed for months to come.
Q: Though it is a sad time, can I send a colourful bouquet?
A: Keep in mind that a sympathy arrangement doesn't necessarily have to be dark and somber. During this difficult time, you can help remind the family to celebrate the life that was lived. Flowers add beauty to an otherwise somber atmosphere and provide a comforting diversion during the visitation. While some people prefer to express their condolences with the quiet elegance of whites and pastels, a colourful combination speaks of cheer and a happy life well lived.
Q: Can I send a classic arrangement that can be enjoyed at the service and at home?
A: Often the shape and scale of a flower tribute for the service will be much different than a piece designed for the house. A wreath or cross would not be suitable for the home, nor would a low centerpiece work well in the larger venue of a church or funeral parlour. Let us know if you are planning for the flowers to go between these locations, and our designer's will craft an arrangement that is the perfect compromise.
For the Casket
The tradition of adorning the casket with fresh flowers is typically reserved for the closest family members, often the deceased's children or those making the funeral arrangements. For that reason, it is recommended that you inquire with the family before ordering a gift of flowers for the casket.
A floral arrangement designed to sit on top of the casket, or casket spray, is available in two types. A lid spray, also called a full-couch casket spray, extends the length of the casket, while a foot spray, or half-couch casket spray, is shorter and is intended to be used for a half-open casket service. The style of casket spray and the flowers you choose to include is entirely up to you. Some feel most comfortable with a classic, traditional look, while others might opt for a highly personalized tribute based on a particular theme. For example, a rustic, natural spray for the outdoorsman or an abundance of bright flowers for the avid gardener. Bunches will create the perfect blend of seasonal flowers to compliment any theme.
Simple and Stunning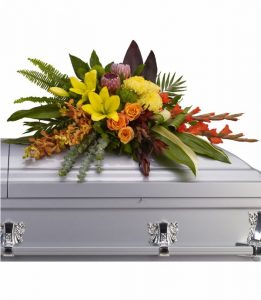 Create a visual impact with a simple design of larger, exotic blooms. Displayed on a background of textured foliages, a few stems of orchids, or tropical Ginger, Heleconia, and Bird of Paradise can represent a spirit of adventure and travel.
Lovely and Reverent
The many textures and hues of an all-white theme against a foil of dark green foliage create the height of soft elegance.
Warm and Bright
Impart warmth and vitality in an otherwise somber occasion. Fresh vibrant blooms bring to mind a lively English garden, helping to convey a message of life, faith, and optimism.
Soft and Pretty
A feminine tribute to a favorite lady, mother, grandmother, sister, aunt, who brought so much joy and spirit to the lives of those around her. A spray in this style might include a gorgeous mix of dainty blossoms in a palette of soft pastels and pure whites.
Peaceful and Natural
Let the texture and colour of a quiet woodland guide the design of a casket spray for someone who enjoys life in the outdoors. Decorative twigs, moss, and a variety of lush foliage will create the perfect backdrop for a selection of favorite flowers.
Traditional Beauty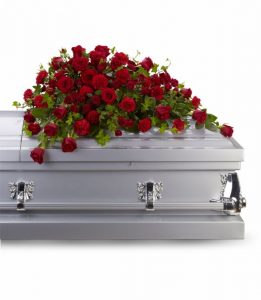 The striking contrast of rich red roses, matched with white accessory flowers, has been a popular traditional choice across the ages. Suitable to honour either male or female loved-ones, this classic choice represents strength and elegant beauty.
No matter which floral arrangement you decide best expresses your sympathy, you can count on Bunches high standards for freshness, beauty and personal attention. During this difficult time, we hope you'll find comfort in the fact that your condolences will be expressed with special thought and care.