Welcome to Bunches' corporate services!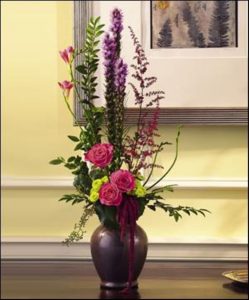 We are pleased to be regularly providing a wide array of fresh floral arrangements, cut flowers, and plants to many companies in the Edmonton area.  Whether it's a weekly floral display for the office, special occasion arrangements for staff and clients, or corporate celebrations, Bunches creates a long-lasting design that is perfect for any environment or occasion. For an added personal touch, we are happy to integrate any cards, logos, or banners that a company may wish to provide.
Bunches gift certificates make wonderful prizes that can be redeemed at any of our convenient Edmonton locations.
To apply for our corporate services, simply fill out the easy application form, and a Bunches representative will call you directly to discuss the specific needs of your company.  Monthly minimum activity of $200 is required to qualify for billing.
Upon approval, your e-mail address will also be added to the Bunches Hotlist, to receive advance notification of specials or exclusive offers on feature items.
Bunches currently supports two groups of corporate customers:
1) Invoiced monthly on account by e-mail, or fax.
2) charge to company credit card number held on file, copy of invoice forwarded by fax or e-mail.
Together with the applicant, Bunches will review the requirements  to create a plan best suited for each individual company. Bunches reserves the right to remove a company from the corporate billing list.
Corporate Account Application