CAREER OPPORTUNITIES
Floristry is an ancient and honorable tradition. Evidence of floral arrangements have been discovered in ancient cultures from Egypt to Asia. In cultures all over the world, masters of floral design have been passing down these techniques for generations.
The modern floral industry is a fun and dynamic environment, requiring comprehensive skills, creativity, and dedication. Are you ready to learn the names and characteristics of hundreds of plants and flowers? Are you ready to meet the individual needs and requests presented by customers every day? Are you ready to challenge your creative talents? Expertise in the floral industry has been shown to be recession-proof and very transferable. At the day-to-day store level, new flower shipments, combined with the diverse requests of individual customers, means that no two work days are ever quite the same!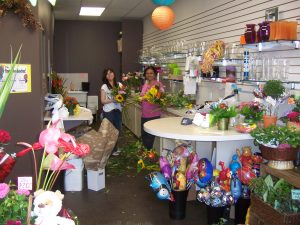 Bunches Flower Company is always on the look-out for new team members. While previous floral experience or training is preferred, Bunches also offers a comprehensive training program in the style of an apprenticeship. On-the-job training is provided through initial orientation sessions, regular daily instruction and supervision, and specific skill training classes. Bunches is committed to the professional development of every employee, and has routine structures in place to facilitate that goal, such as:
Regularly scheduled written employee reviews.
 Comprehensive policies and procedures manual for quick reference
specific skill training classes
Atmosphere of support and mentoring from more experienced personnel
In addition, to further support the diverse needs of a modern society, Bunches offers flexible scheduling, and an excellent extended Health Benefits Plan for full time employees. Come and join the team at Bunches Flower Company for a fun and rewarding career.
It's just bloomin' fun! Please submit your resume, in person, at any Bunches location.
Bunches Flower Company Mission Statement
Bunches is committed to providing excellence in the areas of customer service, product quality, selection, and price.
Bunches is dedicated to promoting professional development by supporting a culture of mutual encouragement and instruction.
Guiding Principles
Bunches recognizes and respects the rights of each individual staff member, who, in turn, must also recognize the responsibilities and expectations of the job. To that end, Bunches promotes the following guiding principles for all individuals associated with the company:
An optimal working environment is one that is safe, secure, and healthy. All Bunches staff should conduct themselves in a professional manner that facilitates a job culture of trust, and emotional and physical safety.
It is the responsibility of all individuals associated with Bunches to work together to create this optimal working environment.